Things to Do
Federal Hill Hot Spots
Siena Restaurant (Located 0.7 miles from hotels)

238 Atwells Ave, Providence, RI 02903, USA

401-521-3311

For a taste of Providence culture, head to Federal Hill and you are guaranteed to receive a delicious meal. One of our favorite restaurants where we spent a lot of time during the college days is Siena. Matt's favorite appetizer is the Polpette Grande, and Kaleigh's favorite entree is the Gamberi con Timo. The whole menu is delicious!
Venda Ravioli + Venda Bar & Ristorante (Located 0.8 miles from hotels)

265 Atwells Ave, Providence, RI 02903, USA

401-528-1100
A delicious quick lunch stop is Venda Ravioli. Venda Bar & Ristorante is a sit down spot open for late lunch and dinner. They make a mean Espresso Martini (good with or without Bailey's). Come here for dinner and be treated to live music outdoors under twinkling string lights.

Other notable restaurants we love:
Pastiche Fine Desserts: an intimate, European-style dessert cafe. (Located on Federal Hill)
Massimo: Voted best restaurant of 2018 in Rhode Island! (Located on Federal Hill 0.6 miles from hotels)
Kleos: Traditional Greek eats & cocktails are served in a light-filled space with a Mediterranean vibe. (Walking distance from hotels!)
Providence Oyster Bar: For fresh, local seafood. (Located on Federal Hill)
Xaco Taco: A relaxed and casual restaurant that represents the traditions of Mexican street food.
Brunch Spots
54 South St, Providence, RI 02903, USA | 401-421-0050

Really cool brunch + dinner spot!
312 Wickenden St, Providence, RI 02903, USA | (401) 270-3300

A crêperie & tearoom in a historic house, also offering beer, wine, cupcakes & a cigar lounge. Wickenden Street area includes Fox Point, a relaxed and walk-able neighborhood with a diverse mix of college students, urban professionals and academics. The area has an eclectic, cool vibe. Old and new are juxtaposed, as vintage and modern meet between the shops and restaurants.

50 Weybosset St, Providence, RI 02903 | (401) 437-8991

Bright space with great food and drink, not to mention bottomless mimosas!
College Hill, Providence, RI, USA
A thickly-settled historic neighborhood, home of Brown University & Rhode Island School of Design. Thayer Street sits atop of the hill and offers a plethora of options for eating and shopping. Matt spent four years living here at Brown on Angell Street.
Providence Performing Arts Center
220 Weybosset St, Providence, RI 02903, USA

The Providence Performing Arts Center (PPAC), built in 1928, is a grand architectural gem suitable to the task of hosting the world's best performing artists. PPAC offers a full roster of Broadway shows, concerts, comedians and special performances. Walking distance from Wedding hotels.
Thames Street, Newport, RI, USA
If traveling to the area, extend your stay through the weekend and take an hour drive to Newport, RI. Thames Street is the nerve center of Newport's thriving downtown/waterfront area. It is lined on each side with countless bars, restaurants, shops and historic homes. We love to travel here and spend time with close friends.
While perusing Newport, don't miss activities such as:
A 3.5 mile walk along Newport's coastline provides a waterfront tour of the Newport Mansions, and a beautiful view of the Rhode Island Sound.

Tour the beautiful mansions built in the early 1900's as summer homes for the elite. They stand in pristine condition today and are not to be missed. Tickets are available at each.
(401) 847-1000

Newport Vineyards
909 East Main Road, Middletown
Originally planted in 1977 on a hill overlooking Rhode Island Sound with the goal of producing fine wines and as a way of preserving beautiful agricultural land from rapid development. Aquidneck Island is blessed with one of the most desirable farming areas in the country, if not the world. A perfect way to spend your afternoon sipping on delicious wines.
401-848-5161

Knead Doughnuts
32 Custom House St, Providence, RI 02903, USA

You can't come to Providence and not get a doughnut. Knead Doughnuts in historic Providence crafts seasonally inspired and traditional gourmet donuts made with locally-sourced, wholesome ingredients.
Wedding Day Transportation
Transportation Schedule to be provided.
Omni Providence Hotel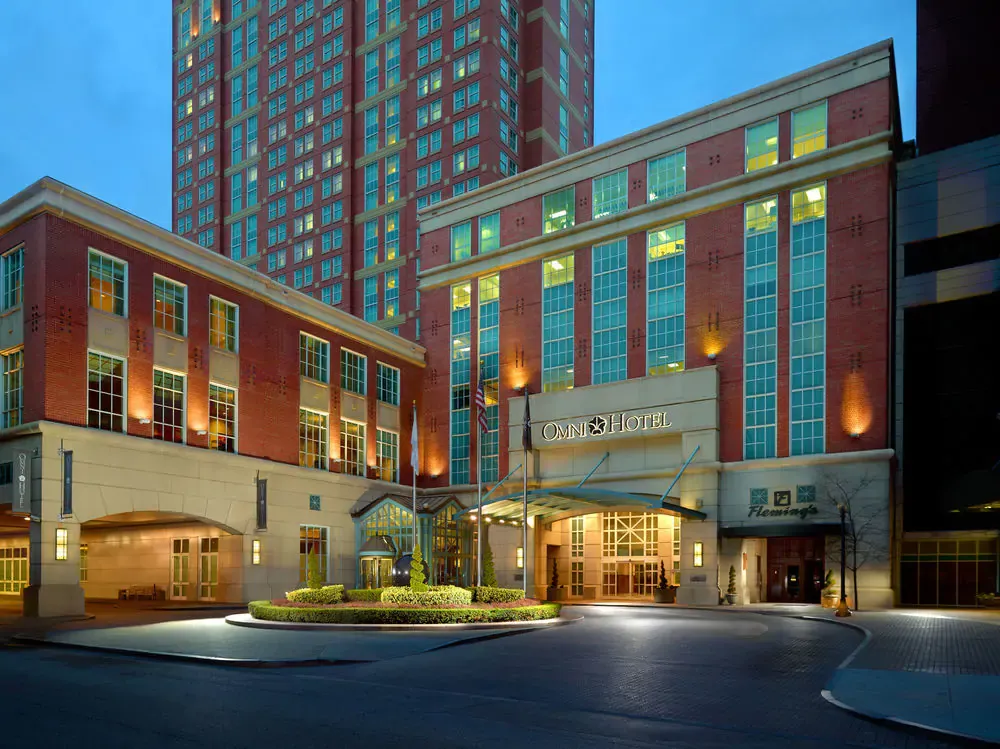 1 W Exchange St, Providence, RI 02903, USA
401-598-8000

All guests are encouraged to stay at The Omni Providence Hotel or The Biltmore. Walking distance to rehearsal dinner and welcome drinks. After-party and Saturday brunch held at Centro Restaurant located at The Omni Providence Hotel.
Group rates will be offered and applied via the Harlow-FitzPatrick Wedding block. Click the link below to make your reservation!
Additional Hotel Details:
This landmark hotel in Providence is connected to the Rhode Island Convention Center, Dunkin' Donuts Center and Providence Place Mall. As a Downtown Providence hotel location, guests are within walking distance of historic attractions, gourmet restaurants, shopping, and entertainment.
For those in search of the spirit of the city, Omni Providence Hotel, with its stunning views of downtown, places you within reach of all the best that Providence has to offer. Access to the Capital Club Fitness Center and proximity to beaches, and golf courses for summer fun.
Providence Biltmore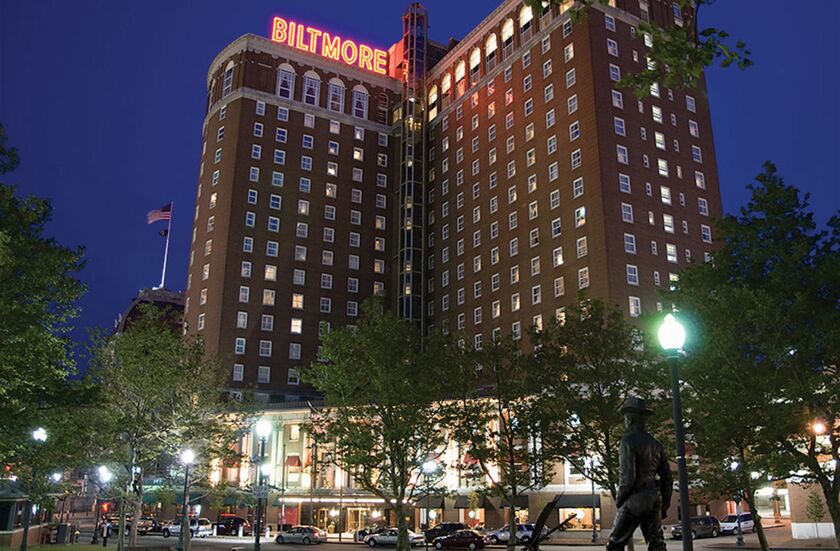 11 Dorrance St, Providence, RI 02903, USA
401-421-0700 | KFisher@providencebiltmore.com

Additional Room Block available at The Biltmore Hotel, Providence's iconic downtown Hotel located .2 miles from The Omni. Walking distance to rehearsal dinner, welcome drinks and after party.
GROUP RESERVATION CODE: 1908WEDDIN
Harlow/FitzPatrick Wedding
PHONE: Guests can call a Hotel Reservations Agent directly at 401-421-0700 and choose Option 1, open seven days a week, twenty-four hours a day, and use your group code or event name when speaking with the reservations agent.
ONLINE: Guests can visit website, www.providencebiltmore.com, click on the "Book Now" button in the top right corner of the screen, choose their arrival and departure dates and enter the group code.
The Dean Hotel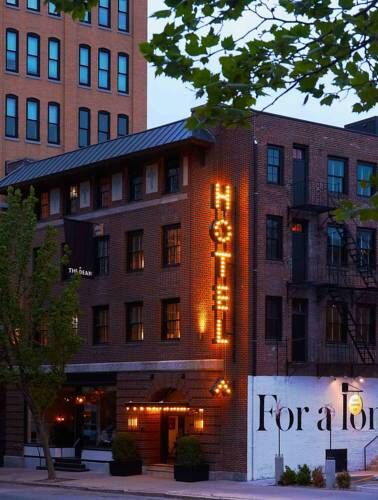 122 Fountain St, Providence, RI 02903, USA
401-455-3326 | info@thedeanhotel.com

Another great option for friends looking for a taste of Providence culture is The Dean Hotel.
The Dean exudes masculine styling, easy elegance, subtle collegiate references, modernist & contemporary design. The Dean believes in collaboration with friends and neighbors, as well as the reinvention of the American economy by local people who make useful objects. Most pieces in the hotel were created by makers, Artisans and Artists in Providence or in other industrial hubs throughout the Northeast. A really cool, affordable spot! (Also has a sweet karaoke bar in its basement!)
(no room block)